I turn 62 this week which is a good time to think back 40 years when I was 22…thinking about all of the friends, colleagues and soon-to-be mentors from a charmed career for which I am grateful…and wondering, "How did I gather so many friends, colleagues and mentors."
I wasn't collecting them to just brag about having so many–no scraping Facebook likes for me.
And as I've said before, the toughest part of writing Overdeliver was when I got to writing the acknowledgments and realized I had over 500 people to thank…and I missed some too.
While most of the 500 are still alive, thinking about all of the greats of direct marketing we have lost makes me reflective and sometimes a bit melancholy, especially on my birthday.
Side note: This year I am giving myself the best birthday present:
A haircut to put an end to #CoronaHair! 🙂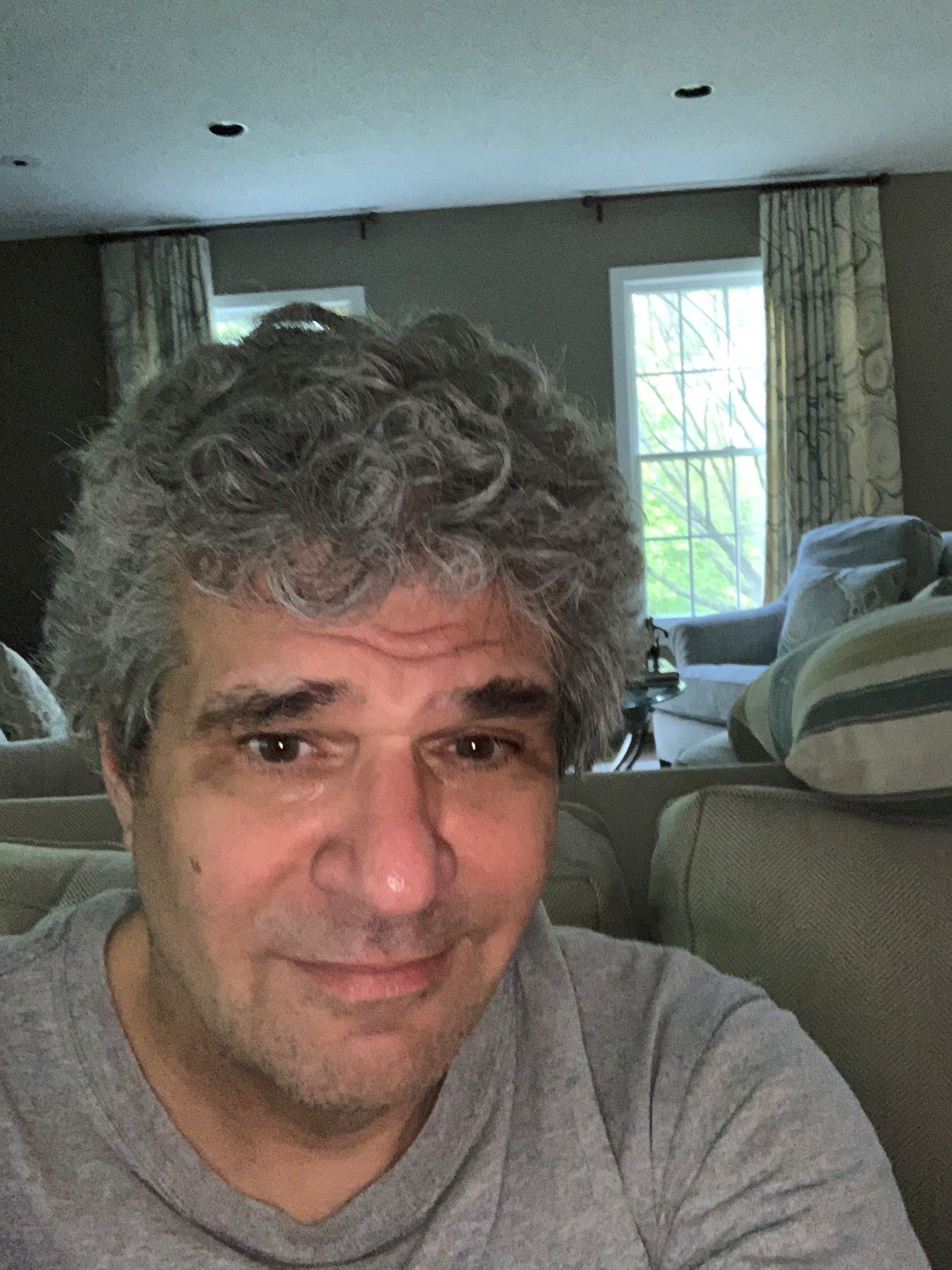 Outliving mentors is nothing to complain about
This phenomenon was inevitable.
When I was in my 20's and 30's, I gravitated to folks in the direct marketing business who were, I thought, "old" at the time—most were in their 60's, 70's (and even 80's)—and of course my perspective on "old" is a lot different today.
Who says 62 is old??!!
Why did I gravitate to them over folks my own age?
It's simple: They had all the wisdom (which is not the same thing as smarts).
It's similar to the difference between a "results leader" and a "thought leader" (a distinction I got from my good friend Joe Polish).
Anyone can have a thought; it takes a real leader with true wisdom to create results.
It's hard to be a results leader when you are in your 20's and 30's (some marketing prodigies can do it) because you just haven't had enough time to create lots of good results yet…and you also need time to create failures as well.
Susan Garrett, another good friend and a world champion dog agility trainer, says:
We win or we learn. We never fail.
I'll correct myself: You need time to create successes and learning moments.
The benefits are obvious when you learn from the best practitioners who have much more experience than you.
However, the downside is obvious when you gravitate towards wisdom this way as I explained above (i.e. you will outlive many of your teachers and mentors).
But not entirely.
If you pay very close attention to everything you learn from them while they are alive…and continue to apply everything you learned from them long after they are gone…they, and their ideas (and wisdom) will never die.
The benefits of being educated well by your elders while they are alive and after they are dead (through their writings, archives and lessons) is priceless education.
We all owe it to ourselves to keep our mentors alive for as long as we are alive…and pass everything on to keep the train moving.
And I hope that what goes around comes around.
That is, 40 years from now, someone might be reflective, melancholy (and maybe just a little bit grateful) as they think about me not being around anymore either.
Or they will just think of me as a crotchety 102 year old direct marketer to ignore! 🙂
But hopefully I can leave a footprint that can be applied long after I am gone.
It's a math problem, this "losing your mentors thing" –especially if you insist on hanging out with old people when you are young.
If you are also intent on hanging out with young people (i.e. considerably younger than yourself) as you get older, you will probably end up being the "lost mentor" at some point…but that's worth it too.
More on that shortly.


Share, share…that's fair
As I said, I turn 62 this week, which would have been the age of my "younger mentors" when I was 22.
And since none of my senior mentors from the days when I was a lad lived to be 100+, you can see why I am a little reflective and melancholy today…but mostly grateful.
I want to continue to share as much as I can—everything I have learned from the legends who shaped my career (and the careers of thousands more in direct marketing) who are no longer with us.
And many that are older and still with us too.
That's what www.OverdeliverBook.com is all about…it honors my dead mentors (Dick Benson, Gordon Grossman, Gene Schwartz, Marty Edelston etc.) and the ones who are still alive and well (Gary Bencivenga, Dan Kennedy, Joe Sugarman, Jay Abraham etc.)
I promised myself that this post was not going to be sad…so I am here to tell you that after six plus decades above ground, getting old(er) doesn't suck.

One of my mentors who is no longer with us, Marty Edelston, often said to me, in order to be sure that I had the right idea about aging:
"I love getting older since it means I am only getting smarter."

And if he was still alive today to have this conversation with me (which I know he would!), he would once again explain the difference between "62 years of experience" vs. "one year's of experience for 62 years."
Smarter means wisdom and not just smarts…and the wisdom is cumulative assuming you are a lifelong learner.

Marty was a lifelong learner and he taught me to think that way too, which at its core means always having insatiable curiosity, always hanging out with people smarter (and often older)  than yourself and never letting your ego get in the way of learning.
"Getting old doesn't suck" is another way of saying how my first 40 years of experience will enable me to make even a bigger difference for my next 40 years.

And no matter how immortal you think you are, because you are young and strong, you tend to assume you have lots of time to make your mark; but it's possible you may not have that luxury.
But don't fret about that—you have no choice but to play "life is long" because it's the only one you've got.
It's foolish to think that you could have launched something "bigger" at a younger age—like Alexander Hamilton in the show Hamilton who, "…wrote like he was running out of time."
You shouldn't be completely complacent but I don't think that is a useful way to think about it.
Yes, you could die tomorrow…and you may not either.
The time was right when it was right. And it will be right again in the present or in the future when it's right.
There are ultimately two times:
"Now" and "not now."
As long as you continue to learn and grow and make all of your wisdom cumulative, I am confident your future will be bigger than your past, no matter how long it lasts.
This reminds me of one of the great moments in U.S. presidential debates.
Ronald Reagan was asked whether his advanced age would be an issue in his second term as President–he was running against the more youthful Walter Mondale in 1984–and Reagan was 73 at the time.
His response to that question:

"I will not make age an issue of this campaign. I am not going to exploit, for political purposes, my opponent's youth and inexperience"


Leaving the campsite in better shape than you found it
While too many of my mentors are dead, they all left much more than some insightful advice over the phone (and in some instances, a nice inheritance for their heirs).
Most left their best thinking for us to immerse ourselves in their life of work…if we are aggressive enough to look for it.
Most of my mentors wrote or created a legacy with books, reports, memos, promotions, letters, videos…they not only did it and taught it but they documented it too.
And today it's easier than ever to document your genius too.
Think about writing more, creating videos, courses—anything to spread your cumulative wisdom.
I also believe that it is our moral responsibility to look for "lost classics" or "lost files" and bring them back to life so that future generations can share in the wisdom of the past—and to also create them ourselves at the same time.
Re-publishing Gene Schwartz's lost classics Breakthrough Advertising and The Brilliance Breakthroughwas only a starting point…I went on to honor Bill Jayme with a collection of his lifetime of work…then publishing the archives of Jim Rutz.

They all left so much–they were just begging us to do that.

And if you haven't heard of Schwartz or Jayme or Rutz, you just proved my point and why we all should find these gems that will become foundational to everything we do in marketing today.
So I would ask you:
Who (what) can you bring back to life for a next generation?
And
What can YOU create today, not from one of the greats, but from your own super powers, that will stand for generations to come?
Doing both is a worthwhile endeavor.


On currently being the oldest in the room
The fact that I am often the oldest person (by chronological age) in many of the rooms I hang out in these days—hanging out with some of the most phenomenal marketers in the world—is something I am proud of and I no longer make jokes about everyone in the room being young enough to be one of my kids.
A better perspective:
I am getting my Ph.D. in areas of marketing from others who may not have not put in the hours (yet)… but they have achieved expertise way beyond what I know in one marketing discipline or another.
And maybe some context from my past could give them some new insights too.
Most importantly it's good enough to grant me a golden ticket into those rooms whether I deserve it or not.
In the words of Aaron Burr in Hamilton (the show is phenomenal—worth two quotes today–and you need to see it):
"I want to be in the room where it happens."


Be a sponge
I attended my daughter's graduate school graduation two years ago as I turned 60 and it warmed my heart that there was a healthy mix of 25 year olds and 65 year olds receiving advanced diplomas in all areas of study.
And they, like everyone in our world of marketing, are best served when they are sponges for learning every step of the way, at every age, throughout their entire lives.
It can be through college or the school of hard knocks or learning from mentors.
There are many roads to mastery.
Education and learning are everywhere…and whether it's in a classroom, a boardroom, a book, or a memory…document it…and pass it on.

Warmly,

Brian 

P.S. I've had enough headlines about "Marketing Through COVID 2020" and "The Pandemic and your Marketing"…I've got three things much more productive for you in the P.S.'s today.
P.S. #1 is recorded, P.S. #2 is written, and P.S. #3 is live (although there may be recordings if you miss it live this week on Tuesday, May 19th).
And all of these goodies don't mean I'm tone deaf or forgetting about the Coronavirus problem that will be with us for quite a while…but there are so many opportunities.
We have gotten through tough times before and we will get through them again.
So it's OK to talk about COVID through a lens in the present…but more importantly we have to look at it on into the future—based on previous issues we got through the past.

A recorded treat
I recently got together with buddies and mentors Joe Polish, Jay Abraham and Dean Jackson…and the title of this says it all:
"How to Navigate Economic Crises and Capture Once-In-A-Lifetime Opportunities"
That seems to be the only way to deal with this current situation…keeping it very future-focused–and I hope you'll give it a listen.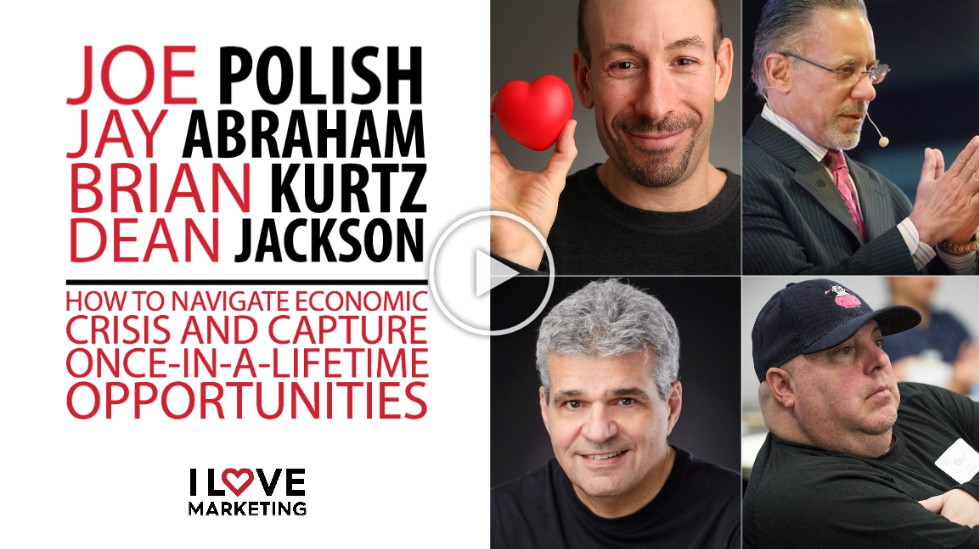 P.P.S.  Written masterpieces
For the month of May, which is "National Inventors Month," you can purchase BOTH of Gene Schwartz's classics, Breakthrough Advertising and The Brilliance Breakthrough at one low discounted price with free, expedited shipping anywhere in the world (where there is someone still delivering that is).
Gene is the inventor of such concepts as:
The critical importance of Mass Desire and not trying to create it
The States of Awareness of Your Market
38 Ways to Strengthen Your Headline Once You Have Your Basic Idea
Why Grammar is Overrated
How To Write Simply So That Anyone Can Understand Your Thoughts
How To Create Quotable Statements
And a lot more…
His inventions in these two volumes might be more valuable than the invention of the lightbulb. 🙂
Click here for this special offer.

P.P.P.S  Free "Live" Content
Tuesday, May 19th, 12:00 noon to 5:00 U.S. E.S.T.
It's a "LiveCast" celebrating the launch of The No B.S. Guide to Direct Response Social Media Marketing…
…with all of the speakers below…including yours truly…and hosted by the authors, Kim Walsh Phillips and Dan Kennedy (two of my mentors).
This is not to be missed.
Aren't you home anyway?
Speakers:

• Andrew Warner
• Rich Schefren
• Brian Kurtz
• Mike Michalowicz
• Dave Dee
• Lee Milteer
• Robin Robins
• Greg Russell
• Jeremy Blossom
• Leslie Streeter
• Josh Turner – Founder & CEO of LinkedSelling
• Michael Rozbruch
• Nick Nanton
• Scott Whitaker
• Shaun Buck
• Jeremy Weisz
• Clint Salter
• Greg Rollett
• Mike Agugliaro
• Mars Burden
• Michelle Shaeffer
• Mike Ski
• Mike Stodola
• Sabrina Truscott and Tristan Truscott
• David Cheatham
• David Stelzl
• Angel France
• Kat Barrow Horth and Reed V. Horth
• Lou Santiniand Tami Santini
• Becky Auer

All of these folks will answer this question…
"What's the #1 way social media has grown your business?"
Get advice from these results leaders who have generated over a billion dollars in business over many decades.
Want a ticket to the #KWPPubLaunch?
It's all yours…register here: http://nobslivecast.com/