We lost a Titan of Direct Response this past weekend, a marketing innovator of the highest order.

Joe Sugarman passed away last week and there has been an outpouring of posts, blogs, videos being shared in many corners of the marketing world…and it's my turn today.

Fans, students and friends–along with marketers and copywriters who may have never heard of him– owe a debt of gratitude to this wonderful man.

Here are just some of the contributions and advances he added to our craft over the 8+ decades he spent on this planet:
He invented and perfected the use of the 800 number for ordering from catalogs…which included creating the path for consumers to use credit cards for an 800 number purchase…and he also "perfected" the use of the "Batman Credit Card" (open loop…keep reading).
He was one of the first marketers to create successful A/B list and market testing in media beyond direct mail.
Using one of those mediums—newspapers—he pioneered the idea to test new products regionally and inexpensively before rolling out with them nationally (and before risking too much before he knew the potential).
He was one of the first to use (and perfect) newspaper and magazine advertorials (there's an example below). Every online marketer in the world has adapted this idea despite renaming it "native advertising."
He wrote one of the most important books about copywriting and human behavior (in the same league as Breakthrough Advertising and Influence) called Triggers. The "triggers" Joe identified are, "30 sales tools you can use to control the mind of your prospect to motivate, influence and persuade". And those 30 do not include hypnotism, sleight of hand, bait and switch or less than scrupulous copy. They are based on how humans behave. Nothing wrong with that.
He also wrote other books on copywriting…and media buying (e.g., direct mail, print, telemarketing, TV), which was everything available at the time he began his career. He was multichannel before it was a word…or fashionable.
Oh…he also launched a catalog of high-tech gadgets that was Sharper Image before Sharper Image came to be…and came up with a little idea to sell sunglasses called BluBlockers that wasn't so little. He sold over 20 million pairs (and they are still selling today).
(More on that phenomenon in a minute. I'm not exaggerating when I say BluBlockers are a modern-day hula hoop. But I don't think the hula hoop got marketing like Joe…proof to come shortly.)
And Joe Sugarman was simply a great guy…always willing to share his wisdom with beginners and experts alike.
The picture below is priceless and gives you a still shot of Joe Sugarman in action…with lots more to come in this post with video links and more.
This pic is from the Titans of Direct Response event in 2014, when he showed off his quick wit and sense of humor on stage to the delight of the other speakers at the event. And trust me that the audience is laughing too.
Joe is at the far right with the microphone…and you might recognize some of the other Titans. He obviously just said something very funny. 🙂
Thousands of others, are mourning the loss of Joe this week…but let's also celebrate him now with some anecdotes, swipe copy and videos that will put words and pictures to the Joe Sugarman story…and educate and entertain you at the same time.

His catalog ("JS&A") and mail order business:
Besides the game changing e-commerce innovations he instituted before there was e-commerce, with 800 numbers and credit cards, the products he sold were always engaging.
While reminiscing with copywriting legend John Carlton this past week about Joe, he said:
"The very first direct response product I ever bought was his negative ion generator from a full-page magazine ad in 1979. Would love to see that ad again. He single-handedly invented the model copy that built Sharper Image."
Note to my online family: If anyone can get hold of that ad, send it to me and I will send it off to John…you will make the "Marketing Rebel" very happy. 🙂

And from direct mail historian and archivist, Denny Hatch:
Sugarman was the first to market a cordless telephone and digital watches to the masses.
His print ads in newspapers and magazines were everywhere you turned.
For example, if you traveled for business or pleasure back then, every issue of every in-flight magazine of every airline was certain to have two or three full-page ads for Sugarman's goodies and high-tech gadgetry.
They were immediately obvious with bold, catchy headlines and long copy that grabbed the reader by the throat and would not let go.
My first "JS&A product" was a keychain with a digital clock inside a ball…sounds cheesy today but it was state-of-the-art in the 80's.
And what I didn't know then and I know now, cheesy or not, Joe tested it multiple times before putting it into the catalog.


How he decided what products to put into his catalog
Since the products were generally new "inventions" (of sorts) …and Joe treated every page of his catalog as incredibly valuable real estate (the cost of printing in full color and paying postage added a lot to that value)…he made a practice of testing new products in the "Southwest Edition of the Wall Street Journal."
The demographics and psychographics were close to that of potential buyers from his catalog…it was less costly to run the ads regionally (and the southwest was even more targeted for his products at the time) …and by taking a ¾ page ad, no one else could advertise on the page with him so he could get more exclusivity.
Testing a small (yet similar) universe to roll out big with confidence to a much larger universe was the game he was playing…a game all successful direct marketers still play today…and he played it as masterfully as anyone.
And he shared everything he did with everyone in the industry so we could implement his successful and tested strategies in our own businesses, well beyond the "Southwest Edition of the Wall Street Journal."
Joe had secrets that he never kept to himself.
The BluBlockers story
After twenty years of selling gadgets and funky products through print advertising (magazines, newspapers and catalogs), Joe hit the jackpot with of all things, sunglasses.
But not just any kind of sunglasses…and the key element of success was the story, not the product.
He said:
Storytelling is very, very important. Some of my greatest ads, most successful ads, started with a story. And the story often has very little to do with the product you're selling or the service you're offering.
But… people love stories, because when they were very young, when they were very small, they were read stories. And that's how they communicated and understood the world.
So…story telling is a really important part. It's one of the psychological triggers that I use a lot.
Here's how he told the story of BluBlocker sunglasses in print: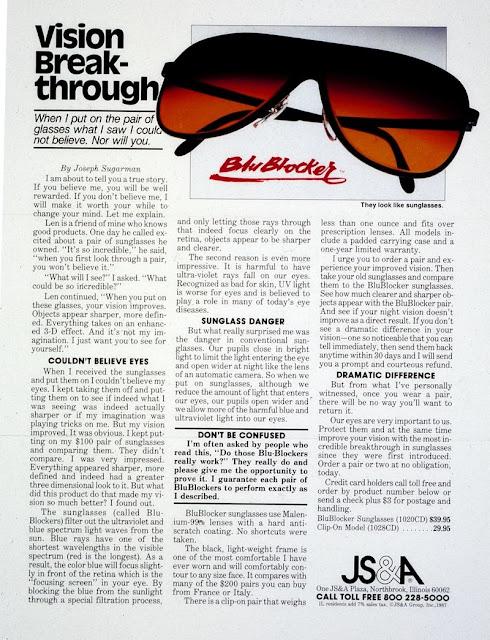 Here's the lead of the ad:
Vision
Break-
through
___________________
When I put on the pair of
glasses what I saw I could
not believe. Nor will you.
____________________
By Joseph Sugarman
I am about to tell you a true story.
If you believe me, you will be well
rewarded. If you don't believe me,
I will make it worth your time to
change your mind. Let me explain. . .
The copywriting lessons from this ad (courtesy of Denny Hatch once again):
This is intimate, personal direct marketing using mass media—magazines and newspapers.
Note the byline. Few copywriters sign their work.
He uses "I" and "me" (as opposed to "we," "us" an "our")
The most important word in direct copy is not 'you'—as many of the textbooks would have it—but according to A list copywriter Richard Armstrong:
"What makes a letter seem 'personal' is the sense that one gets of being in the presence of the writer… that a real person sat down and wrote you a real letter."
 Whereupon Sugarman moves on with a story.

I found a presentation that Joe gave in 2011 which is the origin story of how BluBlockers came to be.
After finding it, I realized I was there in the crowd. I had forgotten. Lucky me.
And now lucky you!
The presentation is about 8 minutes long…and definitely worth your time…to see how a genius marketer connects the dots…how he sold millions of units…and the "triggers" he used to do it.


BluBlockers Part 2: Going multichannel to Hollywood (or at least to Venice Beach)
"Multichannel" was part of Joe's standard operating procedure once he had a hit product…and infomercials were becoming the new, hot media when BluBlockers launched.
Joe created a blockbuster infomercial like no other for these sunglasses.
Here is one of the earliest infomercials for BluBlockers from 1992:
Click here for 28.5 minutes of salesmanship through real time demonstration with authentic testimonials…that has never been done better…before or since.
No origin story even needed with man/woman-on-the-street reviews like these.
And there's a lesson hidden in plain sight about testimonials while you watch.
A key question every copywriter should ask after they get an assignment is pretty straightforward:
"Do you have testimonials from happy customers?"
Joe was ahead of the game because he knew walking down Venice Beach offering a pair of BluBlockers to anyone who wanted to try them on would be an instant testimonial. Nice shortcut. 🙂
Quoting Richard Armstrong again, this time on the power of authenticity of the testimonials you gather:
Real testimonials have a genuine sound to them that's very hard to reproduce, maybe the grammar is ever so slightly off, a peculiar choice of word usage, a point made that no professional copywriter ever would have considered; try and use these real raindrops wherever possible before you start seeding the clouds. People can spot the real ones from the made-up ones a mile away. I'd be very careful about doing too much rewriting, suggesting and editing."


And then there's the Batman Credit Card…or how to turn 250,000 problems into an opportunity
There is nothing more indicative of what Joe Sugarman is all about than his adventure with the "Batman Credit Card." And it wasn't a big winner…on the surface anyway.
The story goes—short version—that he saw a marketing opportunity during the growth of branded credit cards and the original Batman TV series to cash in on the excitement.
His wasn't going to be an actual credit card…but he had grand marketing plans for it.
He was approved to print the cards by the folks who owned the intellectual property…he then proceeded to print 250,000 of them…only to have the approval rescinded.
(The story is a lot more involved and Joe told it on stage many times, with all the storytelling magic he is known for. If anyone can find a video of him telling the full story, please send a link to me and I will share it with this community. Seeing him present it live was a highlight of my career…and I only wish smartphones with a video camera had been invented when I saw him give that speech.)
Anyway, Joe ended up with 250,000 of these in a warehouse in Chicago: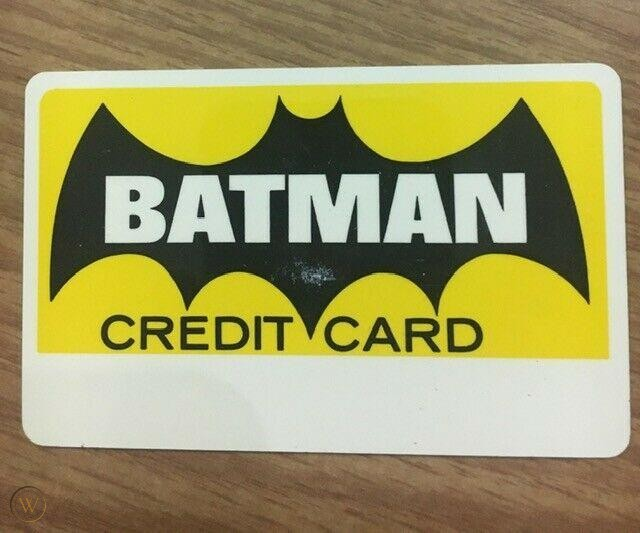 He tried to get permission to market them a number of times—unsuccessfully—but because Joe always saw opportunity in everything, he turned this apparent failure into a branding bonanza for himself…and a case history on making lemonade from lemons.
By the way, here's the copy on the back of the card…Joe's sense of humor comes through again: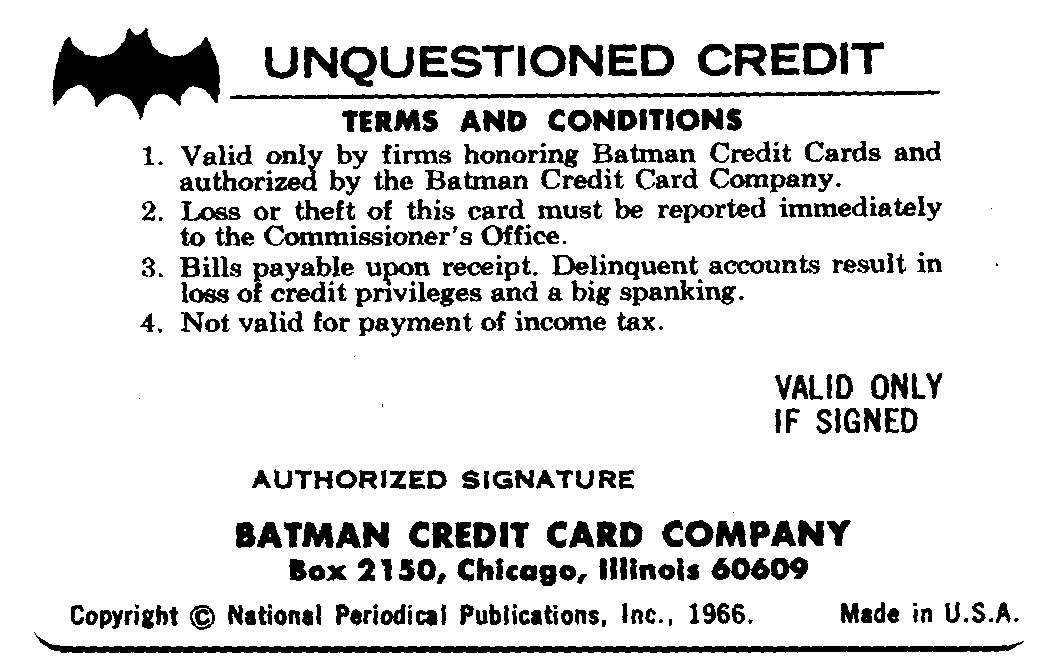 While Joe didn't use the cards to pay his income tax, he derived many non-monetary bonuses from them…which also made him rich:
He used the cards to show his humility…not intentionally but it came through. When someone as successful as Joe Sugarman can laugh at himself by owning 250,000 cards that are essentially worthless, it's refreshing…and inspiring.
The story became a keynote speech…one that I'm sure he charged for at least a few times (although Joe was always so generous with his time so maybe not). Whether he did or not, we all know that getting paid for public speaking is not the only reason to do it. It gave him additional connection to the direct marketing community he loved so much…with entertainment and lessons galore.
The cards became synonymous with Joe Sugarman…his calling card if you will…and wherever he went, whoever he met, there was a Batman Credit Card for all, free of charge. Find some long-time direct marketers who knew Joe and you will hear them compare notes on how many Batman cards each one has…it became a sign that you were part of Joe's inner circle, which numbered in the thousands (but not quite 250,000). 🙂
Doesn't every superhero need an ID card? And it made him synonymous with this quote as well: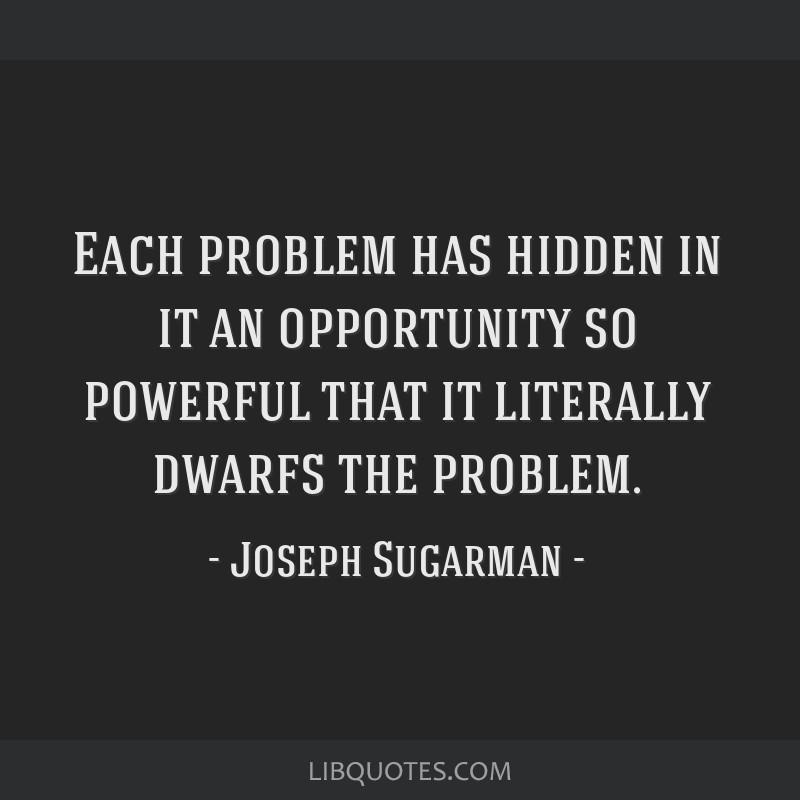 He did this throughout his life—with and without a Batman Credit Card in his wallet.
He will be missed…but he will be remembered forever.


Warmly,


Brian


P.S. One more special video for you…Joe Sugarman's live and in person keynote at "the event of the decade in 2014," The Titans of Direct Response.
Just click on the screenshot of Joe and enjoy.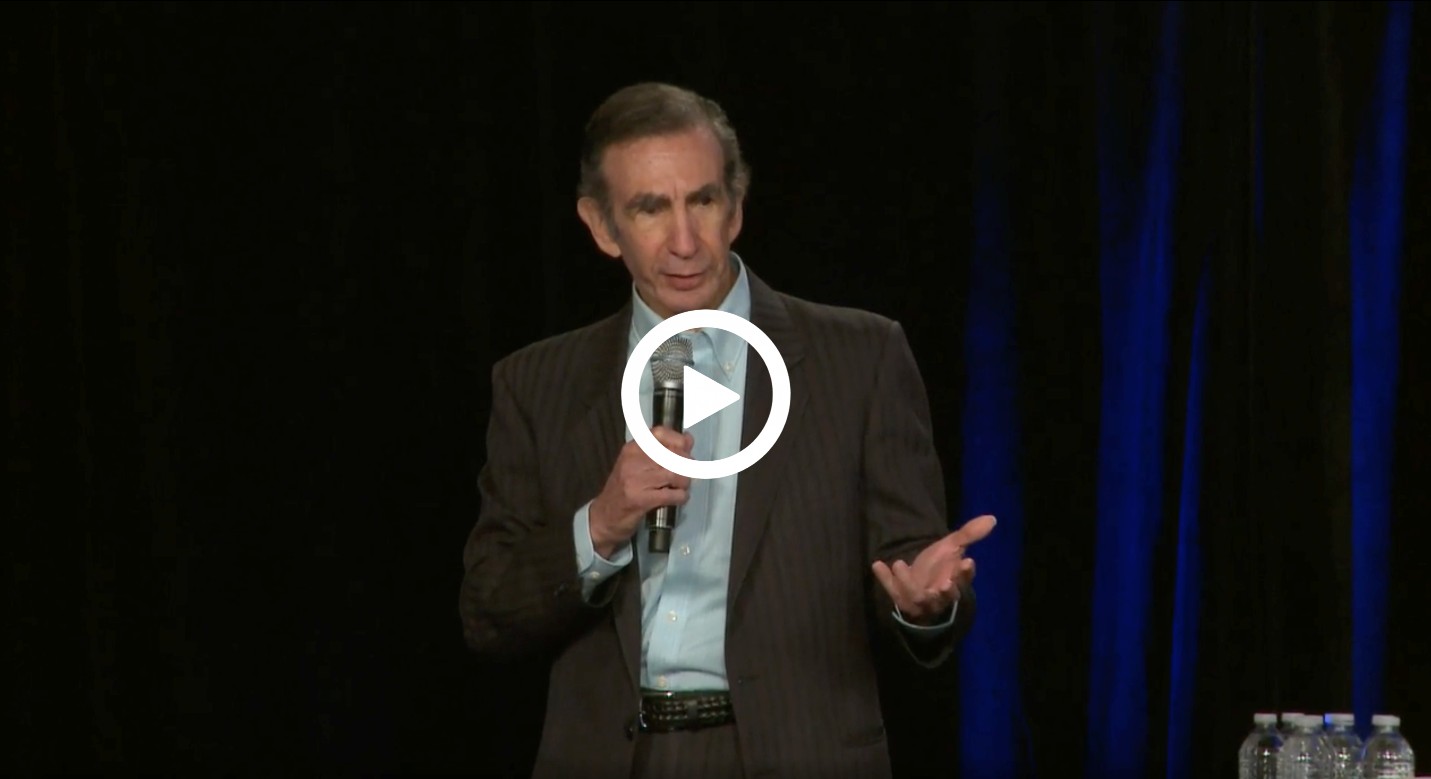 P.P.S. Oh how I wish I had a "Batman Credit Card story"…or half of the stories and experiences that Joe Sugarman had…but if you want to hear my latest and greatest stories at the EntrepreneurNOW Summit, you can register for the entire summit for free by clicking here.
Many of my fellow presenters are friends and people I follow and learn from—including Dan Kuschell, Aurelian Amacker, Erin Pheil, Amber Spears, Rich Schefren, Ken Krell…and there are also many I don't know but I plan to tune in myself and soak up their wisdom.
The EntrepreneurNOW Summit runs from March 31st until April 3rd.
My presentation goes live on April 2nd.
Click here to check out the entire Summit.


P.P.P.S. And to honor Joe Sugarman's monumental masterpiece Triggers…how he shared it and taught it throughout his career…I will try to follow in his footsteps by telling you that the third "Breakthrough Advertising QuickStart Bootcamp" is open and ready to register you as of today.
Of course, I didn't write Breakthrough Advertising…but much like Joe Sugarman, Gene Schwartz wanted his concepts taught and shared…and I am abiding by his wishes. And I think Joe would also approve.
Seating is limited because we want to keep it intimate, collaborative and open for sharing among the members…we have less than 20 seats left…so grab one now.
Click here to read all about it, and also read the testimonials from successful students (although these are not as spontaneous as the testimonials from Joe Sugarman's BluBlocker informercial).
But they are all genuine and unedited.
And some were definitely captured in the moment while they were experiencing the Bootcamp in real time.
I learned from Joe. 🙂
The Bootcamp begins on April 5th and runs for two weeks…with 8 hours of Zoom calls, exercises, discussions…with the purpose of applying the principles of Breakthrough Advertising to your particular business. I guarantee it will be game changing if you decide to participate.