You know how some people, whether you have met them in person or not, still seem to be your friend, mentor or coach from afar?
It's clearly not because of how you interacted with them (since you never met them).
Are you following so far? 🙂
It's because of what they stood for throughout their lifetime—specifically what they did, how they did it and how they taught what they did.
That was Clayton Makepeace–who we lost way too soon last month.
Just like many people tell me today that Gene Schwartz is their mentor (despite Gene having passed away before many of them were born), Clayton's legacy (I hate that word because it usually involves death) is cemented in all of us because he will be remembered forever.
Remembered for his body of work, his courses, his teachings…and his comforting, supportive and extroverted way of expression.
In the spirit of the movie Coco, he will never die because he will always be remembered…and this post will allow many younger marketers (well, younger than me) to remember his contributions as well for a long time to come.

Read "The view from below ground"if you don't know what I'm referring to regarding remembrance.
There's also a link in that post to watch Coco if you are open to an uplifting movie–and if you are missing Clayton as much as I am right now.

The Buddhist proverb goes:
"When the student is ready the teacher will appear."
With Clayton we can re-write that proverb:
"When the marketer is ready the world-class copywriter will appear…probably on a Harley."

If you didn't know anything about Clayton until today, believe me when I tell you that he is more influential on your career than you are aware of, whether you are a copywriter or a marketer, offline or online.
And if you didn't know him, or work with him directly (but have followed his work), and you can still chalk him up as an influential teacher or coach, you know how fortunate you are.
Either way this post will be worth reading (and I say that with ultimate humility and reverence).
I want everyone in my online family to be influenced by Clayton whether you've ever met him or not.
Of course if you knew him I'm sure you loved him as I did…we were the very lucky ones.
I'm in that group and I got to work with him and watch him work for others.
He was my friend, mentor, coach and collaborator on so many projects over the past 25+ years.
I was one of those students (i.e. marketers) that was ready when the teacher (i.e. world class copywriter) appeared.
And we had so much fun in the process.
He was a larger than life personality, always cheering you on and supporting you with knowledge; and the priceless stories and humor were like the premiums (i.e. bonuses) from one of his direct mail masterpieces.
Here's a picture from the American Writers and Artists Inc. (AWAI) Boot Camp a few years ago–some badasses in this photo (not including me)—can you name them all?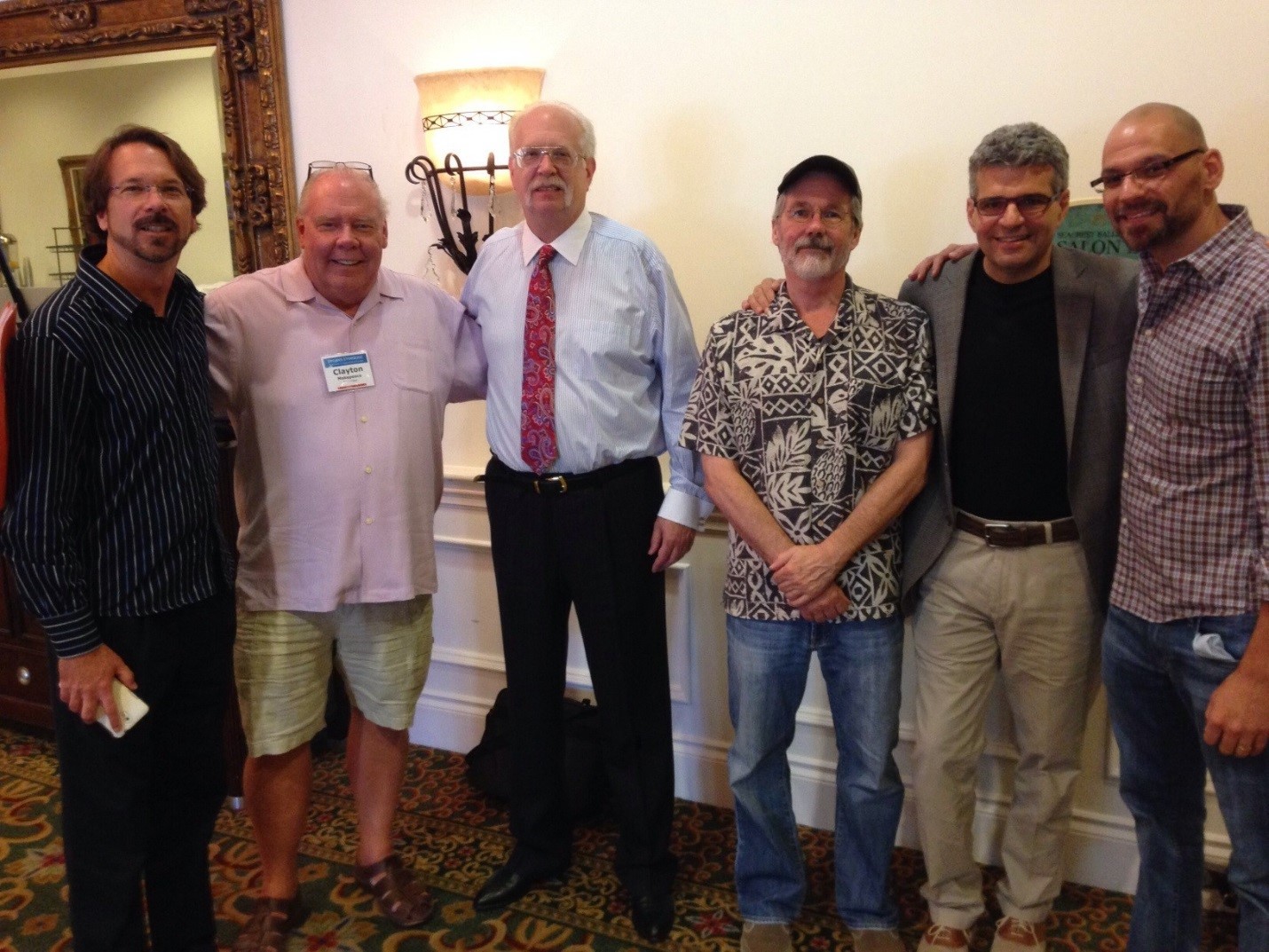 Spoiler alert for some of you: Clayton is the second from the left in this photo, in-between Kevin Halbert and Dan Kennedy.

Clayton not only wrote some of the greatest promotions ever, offline and online (over four decades), but he is a leader in the craft we call "copywriting."
I am sad deep in my heart about the passing of Clayton Makepeace…a copywriter who is on many "Mount Rushmores" of copywriting.
We lost a treasure.
And he was no slouch in direct response marketing either—he is one of those "A Listers" who is extraordinary in all 7 characteristics that I maintain are present in every top flight copywriter (in spades)—and sadly there are very few who excel in all 7:
He was HUNGRY and knew how to "show" and not just "tell"
He had INSATIABLE CURIOSITY (see below for an example)
He knew how to SEEK FEEDBACK LOOPS for his copy and research
He had supreme PASSION for whatever topic he was writing about
He understood DIRECT MARKETING PRINCIPLES and never just "wrote for food"
He had HUMILITY and lived "confidence without arrogance"—which is rare
And he has A BODY OF WORK that will stand the test of time
He and I, over the years, hatched evil plans of all kinds that started with a creative idea from him and blossomed into a new product.
That was never more evident than when he wrote our first "magalog control package" (a magalog is a 20-24 page, self-mailer format, that 3 other top copywriters couldn't find a way to get that format to work for us)–but it was a successful format already for many of our competitors.
I remember going to visit my direct mail guru in 1993, Dick Benson, armed with our lackluster results with magalogs and asking, "What are we doing wrong?" and "Should we give up on this format?"
Benson laid into me big time:
The magalog format is perfect for your products…it is long form, it tells a story of who you are at Boardroom, an unknown brand to many.
It's exactly what you need. You can't give up.
You know my Rule of Thumb that says "self-mailers almost never work?" That doesn't apply to you!
And since you have so much valuable content in your books and newsletters, the magalog allows you to "give away some steak and not be all sizzle."
Also, you know you have the right lists and an irresistible offer already…you are always prepared that way…you just have the wrong copywriter.

The right copywriter to solve the magalog puzzle for us was Clayton Makepeace.
First mailed in mid-1994, his magalog for our Big Black Book mailed over 16 million copies and launched us into dozens more magalogs over the next 30+ years.
Good thing we didn't give up, huh?
Magalogs became our vehicle of choice for almost all of our book offers…and we had many.
The cover of that magalog is below.
And as a "bonus" to this post, click on the arrow on Marty Edelston's face and get a copy of the entire promotion.
It's a swipe that many folks might have, and I know you definitely have it if you attended the Titans of Direct Responseeventin 2014.
And whether you have it or not, I suggest you study it.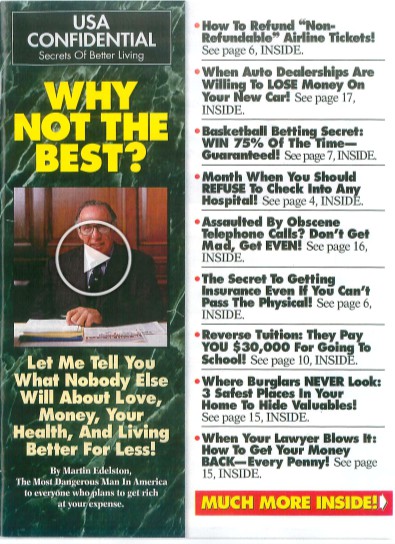 I hate to push my opinion on you but isn't it brilliant?
Notice all of the "steak" (Secret #'s XXX) throughout, teasing to the book itself and the premium "Best Kept Secrets in America," (all with page numbers).
Read "The best copywriter you never heard of" (a profile of Mel Martin) which talks about the origin of this "fascination" technique.
I believe this magalog is a precursor to "You're best stuff is on the cutting room floor" and also "give away your best content before you sell them the product."
While you can't give away the store in direct mail like you can online, I believe we did what we could do here (with the restrictions of paying for paper and postage)– and this was the beginning of the beginning of a different level of content marketing in 1994.


I have so many other memories of how Clayton worked…here's one that showed how detailed he could be with his methodology of writing combined with his insatiable curiosity and creativity.
I recall visiting Martin Weiss, a wonderful entrepreneur and publisher of financial newsletters in Florida in the 1990's, and lucky for me on that day Clayton (who was his top copywriter) was visiting as well.
Well I was visiting…Clayton was working.
He wanted something new for Martin…who was the "guru" of the newsletter…and since Martin had previously (or was planning on or both) testifying before Congress on financial issues of interest to our government, Clayton set the stage for that in Martin's boardroom that day.
With Martin on one end of a long table and Clayton at the other, Clayton asked questions of Martin that only he could answer (with incredible candor and competence) related to the newsletter that they were promoting, current events and financial issues.
Of course they recorded it, took some pictures of Martin "presenting before Congress" (i.e. Clayton playing a Senator) and the result was a brand new control package, full of gems that Clayton plucked from Martin's brain.
I thought this was a unique way to "get the full story" and it was fresh, new and relevant content.
That was one of hundreds of tools that Clayton had as a "go to" in his toolkit.


I could go on of course…but hopefully this has given you a glimpse into a copywriter for the ages…and I'm glad Clayton got the accolades and appreciation while he was alive.
We now have to pay it forward to the future.
This post is one of many steps where I will do that on Clayton's behalf…and please share this with your own tribe if you like (or on social media or wherever you have people following you).
If you knew him, add to this post when you share it with your own recollection or a significant contribution Clayton made to you.
Share them with me if you like as well. Just send me an email.
And if you never met him, you now have a new best friend (and coach) named Clayton Makepeace.

Warmly,

Brian

P.S. In honor of Clayton, I would like to make a special offer—ONLY until Sunday May 3rd at midnight:
If you join Titans Xcelerator before then, for the year at $2,000 or monthly at $200/month, I will send you (in addition to the welcome package, welcome USB, Titans Xcelerator Diary and more):
An exclusive presentation that Clayton made at Titans Mastermind in January 2017 that is one for the ages
And a 200 page PDF that Clayton distributed at that event titled: Double Your Profits in 12 Months or Less. From anyone else, this would be hyperbole; from Clayton it's an action plan.
When I told Clayton about Titans Xcelerator, he was excited about the group (because he has run many groups like it successfully in the past).
I was planning to bring him in as a guest speaker but I can no longer do that—this is the next best thing.
I hope you will join today and scoop up these additional bonuses.
I am doing it in the spirit of Clayton Makepeace, the copywriting professor.
After you sign up, just hit me with an email with "Clayton" in the subject line and I will get you the additional bonuses.
https://www.briankurtz.net/xl/

P.P.S. Clayton's obituary written by Martin Weiss follows…it depicts Clayton as the "bestselling author" he was…I thought it was a fitting tribute:
Clayton G. Makepeace 1952 – 2020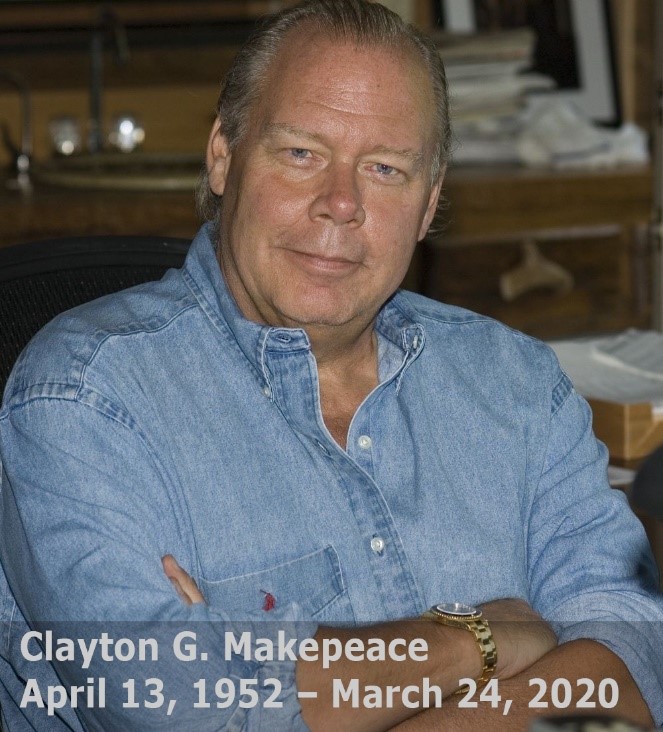 Clayton G. Makepeace, age 67, of Sarasota, FL, passed away of pneumonia at Sarasota Memorial Hospital with his loving wife by his side.
He was a great writer.
But we generally assume that the most widely read writers in America must be famous. Names like Mark Twain, Ernest Hemingway and a short list of contemporary authors come readily to mind.
Truth be told, the list must also include Clayton.
In his 45-year career, he wrote for hundreds of magazines, newsletters and books. At least 200 million copies of his works were printed and avidly read by millions of Americans from all walks of life. His works published online reached an even larger audience.
His prose is rich in history, current events and predictions of the future. His style is friendly, engaging, motivational and often riveting. Among all others in his field, he easily provided the best combination of creativity and prolific writing.
But like many in his profession, he rarely penned his own name to his work. He had no desire to become famous or receive public acclaim. He was more than content to remain anonymous.
You see, Clayton Makepeace was not a typical writer of fiction or nonfiction. Nor was his work sold in bookstores or on Amazon. Rather, he was a marketing copywriter, and his mission was primarily to promote America's leading investment and health professionals. He was their ghostwriter, speechwriter and marketer. They were the ones who became rich and famous.
Although unknown to the general public, Clayton gained great acclaim in his field and was also the best teacher of creative copywriting in America. He devoted countless hours to mentoring others whose lifelong dream was — and is — to follow in his footsteps. His copywriting courses and guidebooks, which he did author under his own name, will always be in great demand in the United States and around the world, leaving a legacy and loyal following that will endure forever.
If there's ever a Nobel- or Pulitzer-type prize for copywriting, it will almost certainly be awarded, post-mortem, to Clayton G. Makepeace.
His very last piece is a one-hour script for a famous former presidential candidate. It will be used to launch a national bipartisan campaign to help protect the finances of millions of American retirees in the wake of the coronavirus crisis.
He will be greatly missed by his loving wife of 26 years, Wendy G. Makepeace, his children Michelle Makepeace Wilson, her husband Brian Wilson, Clayton Dennis Makepeace, his wife Kimberly H. Makepeace, Katherine A. Makepeace and Justin T. Makepeace, along with four grandchildren, Liam Makepeace Wilson, Sawyer Makepeace Wilson, Wylly I. Makepeace and Violet D. Lopez. Clayton is predeceased by his parents, Gerald F. Makepeace and Kay L. Brogan.
He will also be missed by thousands of grateful friends from all walks of life to whom he extended a warm, helping hand of friendship, mentorship and generosity.

A celebration of life will be scheduled in the coming months when it is safe for all to travel. All who knew him will be invited.