Submitted for your approval…two mantras for any marketer, blogger, ecommerce business owner, entrepreneur, coach…anyone who sends out correspondence via email…whether information, customer service or an automated thank you:

1. Engagement is a two-way street 

AND…

2. It pays to reply to every email with more than an autoresponder 

When I wrote "Open rates are overrated,"  based on the ramblings of genius/madman/email marketing guru Ben Settle, the overriding theme was that without engagement (i.e., give-and-take with your audience) what is the point of communicating in the first place? 

I realize that folks who communicate with huge audiences will dismiss this premise and tell me that I can respond to every email because I have a small audience.  

Or I must have a lot of extra time on my hands. 

The former is true…I am not mailing weekly to tens of thousands of people…but my online family has grown into the thousands…and I continue to ask them (you) for questions, advice, feedback…encouraging engagement…and assuming I will answer every email in due time. 

The latter (that I have too much extra time on my hands) is not true. 

I'm busy just like them (and you). 

I just make responding to email my top priority. 

I refuse to rely solely on automated emails when I am dealing with magnificent human beings …humans who love marketing, copywriting and entrepreneurship. 

When I wrote,  "The top priority in your business," I floated the idea to you that communication with your online family is not an amusement but rather the single most important thing to do…and can do…to grow your reach and mission. 

Which in turn grows your business. 

I have countless engagement stories from email that started with a whisper (i.e., an innocent email) …and turned into game changing projects, collaborations and yes, lots of money too. 

I will share a few of those with you today with tips on how you can spot the gold in your email In Box…and respond accordingly. 

Of course, there are many unfulfilling email correspondences that lead to nothing of significance. 

But even the most banal exchanges achieve something in terms of education (with the worst case being "I won't respond personally to that kind of email again"). 

There is always some payoff however…whether for the recipient from something I share or for me from something they share. 

Anything is better than an autoresponder when someone takes the time to write to you. 

The five ways we get paid—Utilize, Enhance, Appreciate, Refer, Reward—has "money" (i.e., "Reward") bringing up the rear…so I am talking about "payoff "with a different perspective. 

To that end, I am committed to receiving a payoff with every blog post or email I send…and engage with…and to achieve at least one of the five ways to get paid.

Pro tip regarding the examples below:

Look for language, even in the shortest emails you receive, to pick up on "stages of awareness" (of you and what you offer) and/or "levels of sophistication" (of those you are corresponding with).

Thanks to Gene Schwartz for that lesson.


The $60,000 email 

I received an email circa 2017 from a guy I had never heard of—commenting on a reference inside my blog post one Sunday to the Titans of Direct Response, a landmark event I hosted in 2014. 

The email simply said:

Do you think you will do another Titans in the future? 

Just the fact that he called it "Titans" gave me a clue that this guy might be an "insider," shortening the event to a nickname. 

I couldn't be sure but I had a clue. 

I sent him a personal email all about my plans for another epic event sometime in the future plus some behind the scenes stuff about the 2014 event. 

He already had awareness of the event and of me…I couldn't tell his precise level of sophistication…and the only way to find that out was to engage with him. 

That email thread blossomed…I found out that he was indeed a major player in the world of online display advertising…one thing led to another…and he joined my Titans Mastermind for three years. 

And note…even if he hadn't spent a dime with me, the correspondence would have led to me working with him and recommending him to others. 

The money (and the influence he had with my mastermind) was a whole lot of gravy.


The personalized funnel 

I love email service providers to blast these emails to you every week…and I use autoresponders to let new signups know "what happens next" … and to ask "what did you think?" of the interview you receive when you sign up. 

But there comes a time when the personal touch needs to be applied…I think sooner rather than later. 

It won't always lead to a sale on the spot…but when you go personal, your odds are increased to begin a meaningful relationship. 

And your odds are decreased that they will unsubscribe due to only receiving a flood of impersonal emails.

"Customers/subscribers/prospects/students refund transactions, not relationships." 

Put another way: 

I'll take a deep connection over an order short term to create both in the long term.


$2,000 is not "low ticket" 

One thing that bugs me about the online marketing world is those marketers who treat $2,000 course buyers as an "anyhow business." 

It's also how they treat $47 or $99 buyers…and frankly, a buyer is a buyer, is a buyer. 

"Onboarding" is not a one-off and transcends over the lifetime of the customer. 

"Housekeeping" is a series of one-off pieces of the customer journey and unfortunately, often done exclusively with automation and no human contact. 

I have friends who think I'm crazy to nurture prospective members to Titans Xcelerator (for example) …roughly a $2,000 a year membership…with personal emails and even a quick "interview" to get them to join. 

But it's more than that. 

It's to cement them in the Titans Xcelerator family for subsequent years. 

Here's the math: 

If $2,000 isn't worth some extra romancing (i.e., adding personal emails and occasional one-on-one engagement), is $6,000 worth it? 

I do it for the "$2,000 buyer/member" regardless…but I do it with a mindset of retaining a buyer/member for three years…which translates to a 70% renewal rate. 

The assumption is that a high renewal rate is a function of your offering being awesome and delivered at a fair price…but just as important, is perpetual onboarding, by surprising and delighting your audience regularly…and always overdelivering.


Reciprocal fandom from jolly old England 

My assistant sent me this email (from an email she received) a couple of years ago:


Brian:

You have GOT to watch this video!

I received an email from a guy asking about Breakthrough Advertising.

He heard about it from that video.

Do you know the guy in the video, Robin Waite?

He goes on (and on, and on!) about BA, why you need to buy it, talks about you and Barbara, etc.   


That's an email, three times removed. Like a long-lost cousin. 

From the original video email, to an email from someone who watched the video (sent to my assistant with the link to the video)…and then to me. 

I immediately wrote directly to Robin Waite with the subject line:

"Why aren't we best friends?" 

That led to having Robin as a friend for life. 

I appeared on his podcast which was fantastic, he joined Titans Xcelerator, delivered a presentation to the group on monetizing podcasts that was superb…and I became his biggest fan.


The Brazilian connection

In 2016, a young copywriter from Brazil sent me an innocent email which could have easily been ignored. 

I'm telling you this story because I didn't ignore it. 🙂 

Here is his email:


Hello Brian!

Hope you are fine! I got your contact in the Halbert FB group.

I have the book [Breakthrough Advertising] myself already, but I'd like to ask if you would eventually be thinking about creating a MP3/CD version as well.

Last year the audio version of The Robert Collier Letter Book was released on Audible, so maybe it could be possible to do the same with Gene's classic?

Have a great week, and happy holidays!

Regards,

Luis   


Two clues here as to the potential of creating a relationship with Luis (and these apply to Robin from the U.K. and the online marketing expert who renewed Titans Mastermind three times): 
Level of awareness of me is indicated (by reading about me and Breakthrough Advertising in the "Halbert FB Group").
Level of sophistication in the "craft" (marketing, copywriting) is also indicated since he has bought and read Breakthrough Advertising…AND he's hanging out in a sophisticated copywriter forum on Facebook.
I responded that my plan is to do an audio version eventually but the delay is because I want to be the one who reads it.
I also shared some details regarding my special relationship with Gene Schwartz (and his wife Barbara), sending him a link to this post.
And that being the shepherd of this masterpiece is something I hold very dear.
I also sent him a link to The Brilliance Breakthrough (Gene's other masterpiece) and I have no idea whether he bought it or not…and I don't care.
Everything in my email to him was in the spirit of service to a curious new friend from Brazil…whether he was looking for my service or not.

He followed that up with this:

I'd like to suggest an idea for you, Brian… as you know, Eugene's books are packed with solid content and there's a huge demand for such information nowadays (as we see by the interest in his books).
So, could it be possible to release a course (maybe with video/audio/workbooks) on Breakthrough Advertising, eventually?
I know it's a difficult task, but certainly will be unique.
Maybe a course like John Carlton's Simple Writing System, with a workbook, a video lesson explaining the concepts of each chapter of the book, and a forum for the students to ask questions and interact.
The idea is to breakdown the book, and make the contents more accessible to normal guys like me… lol
There are many courses with that format, but none with the high level of content we see in Gene's book.
Or, for starters, maybe create a private FB group on "Breakthrough Advertising", where we could discuss the book, interact, etc, and by the level of engagement you see if the idea to make a course is viable.

That was 2016.
Just maybe it was this follow up email from Luis which went into my "parking lot of ideas" …because I DID launch a course on Breakthrough Advertising with a workbook, videos and a forum…albeit 5 years later.
If I never heard from Luis again, he had delivered value beyond my wildest dreams…but as most students of the craft, he wasn't finished with me yet.
Fast forward to October of 2021 when he wrote to me again:

We've exchanged some emails in the past, about Eugene and Breakthrough Advertising,
BA always fascinated me, and I decided, some years ago, to be brave enough and study it from cover to cover
So, I worked with the original book, trying to understand the concepts, and in the meantime, I edited the layout, titles, and looked for the ads (to study them even deeper).
I collected about 150 ads.
In fact, that was my own way to study and assimilate the book and as a work of love, of gratitude to Schwartz, who left us his masterpiece.
Now, 55 years after the first edition, from 1966, I thought you could be thinking of releasing a special edition, to remember this date.
Would you be interested in this version?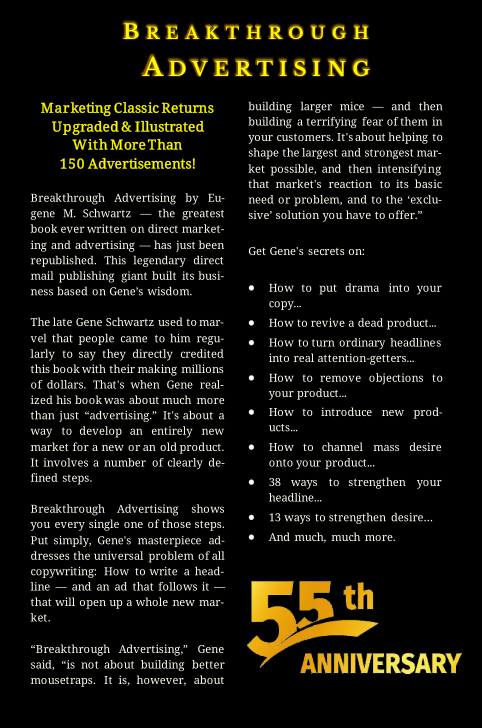 I'd like to give it to you as a personal gift, totally for free, of course.
If you eventually decide to do something with it, we can see, and I'll also be glad to help.
I worked as a webmaster and book editor, but now I'm mostly focusing on my copywriting career.

You should keep an eye out for this 55th Anniversary upgraded and illustrated companion book to Breakthrough Advertising.
I obviously took him up on his offer.
I also found out that the 150 "Breakthrough Advertising related ads," is part of a swipe file of over 16,000 classic ads Luis has compiled, some going back to the late 19th century.
I recently shared some of those ads from the 1880's including ads selling the works of Charles Dickens, tandem bicycles, and the best miracle hair dressing of the day, something called Cocoaine.
Luis is the email buddy who keeps on giving.

You too can have a Luis (and many others like him) in your life.
The only requirements:
Open all personal emails (except for the ones from a Nigerian prince or the ones letting you know about "the pictures you requested").
Read all of those emails…with an eye towards the level of awareness and level of sophistication of the author.
Respond to every email…with your own personal touch relating to what they told you about themselves…with an intention of getting paid…maybe even with money.


Warmly,


Brian


P.S. I am hosting my Titans Mastermind this week…unfortunately still virtual…but fortunately I've got an amazing lineup of world class speakers.
We will be learning, among other things:
Best practices for advertising on YouTube
Exit strategies from a kick ass entrepreneur who has done it twice successfully
Secrets from a podcasting pioneer
Niche marketing that creates millions of fans, followers and dollars
Using your content on multiple platforms with minimal "fuss"
My mind is bending just thinking about it.
The plan will be to share highlights from this meeting with all of you for months to come.
Just open, read and respond to this email every Sunday morning. 🙂