The "marketing battlefield" is constant and demanding.


It's an endless war that requires stamina, continuous (lifelong) pivots…and of course, a ton of testing. ☺

But this endless war of marketing, unlike other endless wars that involve devastation and casualties, is obviously not as "serious"; and I want to stop the comparison before I equate a copy test that failed with a jungle battle that lost lives.

Marketing battles are at the core of everything we do…you win some…you never lose one…since you always win or you learn.

And no one gets hurt…physically at least…in these special battles.

It's warfare with happier endings I guess.

I heard "we win or we learn" from an expert dog agility trainer/marketer (Susan Garrett)–not someone from the Joint Chiefs of Staff—and it's a phrase that is in my mind every day as I (happily) toil in this wacky world of marketing.

And here's the other quote that is in my mind while doing all of that happy toiling, this one from Winston Churchill, the titan who saved the world:

"Nothing in life is so exhilarating as to be shot at without result."

It sounds like Sir Winston could have been a marketer. ☺


Anything you do, at any time in your business, should be considered "wartime," with no hope for peace (ever)…

…but when you do it right, you can still achieve "piece" (of mind).

How can you as a marketer, copywriter or entrepreneur perpetually live in a war torn world with no hope for "peace?"

Short answer: You can.

The reason why "peace" is so difficult is because of the infinite media choices at your fingertips coupled with thousands of state-of-the-art tools you can use to exploit all of that media.

"Noisy" would be an understatement.

Lean into the fact that It's OK not to find "peace"…but that you can find "piece" (of mind).

It's not easy but it's very doable.

It's difficult and not doable however if you run your company (and especially your marketing) as a lone survivor rather than a citizen soldier (with friends).

What's the difference?

Lone survivor is an oxymoron in the world of marketing…because if you remain alone, you won't survive.

To be a citizen soldier (on the marketing battlefield) you need, first and foremost, a battalion of support.

You must still "arm yourself" in the definition of a citizen soldier…but don't forget to add "key people" to your stockpile of weapons and ammunition.

And to get off the military analogy for a minute, in plain terms, you need reliable and intelligent feedback loops (of the highest order).

That's people with your best interest at heart, at your level and above…mentors, leaders, experts…people you would follow into battle anytime because they have been in battle previously…and all they want to do is share their wins…and learnings.

See the P.S. and P.P.S. for killer ways to find the best feedback loops in the world just for you.

I'm not done with this comparison between the civilian world and the world of the military yet…and here's my story for today which directly relates:

I had an experience a few years ago when I "masterminded at The Pentagon.

Yeah…THAT Pentagon.

I was really there "on the inside"…this picture is NOT a postcard…honest: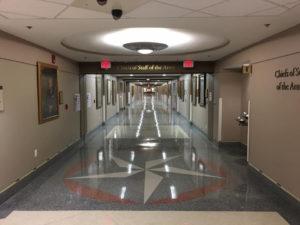 This is just one small piece of a hallway in this massive structure…and for a quick tangent, here are some fun facts about the rest of the building:
The Pentagon is the world's largest office building, with about 6,500,000 square feet of floor space, of which 3,700,000 square feet are used as offices.
Some 23,000 military and civilian employees, and another 3,000 non-defense support personnel, work in the Pentagon.
It has five sides, five floors above ground, two basement levels, and five ring corridors per floor with a total of 17.5 miles of corridors.
The central five-acre pentagonal plaza is nicknamed "ground zero" on the presumption that it would be a prime target in a nuclear war.
Not bad numbers for basically a five-story building (not including the two basement levels).
So why would the U.S. military complex invite me, a civilian marketer, not even a citizen soldier, to the Pentagon?
To talk about masterminding of course…
…well, masterminding disguised as an "Oprah Book (Reading) Group."
Let me explain.
The event was sponsored by a wonderful organization, American Dream U,a non-profit dedicated to help our soldiers and veterans re-career out of the military as they enter civilian life.
It's the brainchild of my good friend Phil Randazzo.
Here we are doing a "press conference" at The Pentagon looking pretty official: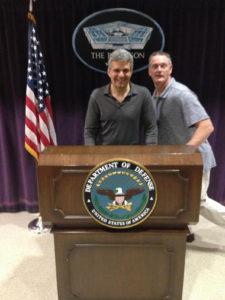 Masterminding at The Pentagon

While I didn't really get military clearance to hang out with my marketing buddies at The Pentagon, I did get to speak to our troops stationed just outside The Pentagon at Fort Myer, Virginia.
I took that opportunity to speak to them about masterminding.
But not the kind of masterminding that involves dropping tens of thousands of dollars to be with gurus and people you assume know more than you do (which by the way, they don't…they just know more than you do about things you know less about).
Different topic for a different day.
I knew my audience (by the way that's a pro tip if you do public speaking ☺)–that is, I knew they needed to learn to mastermind but paying big bucks for it might be beyond their means at this point in their careers.
Instead I outlined the much more reasonably priced "Oprah Reading Group" version of a mastermind.
It doesn't cost anything to join, it can be just as accountable as a paying mastermind, and it starts by reading a book once a month with 4 other buddies at the same level as you and getting together to discuss the book as a leaping off point to then discuss business and career issues.
I don't recommend making the book of the month a Stephen King novel or a selection from the Harry Potter series…this "book club/mastermind" is an idea that needs non-fiction books to make it work best…and that's what I mapped out for the troops.
Forbes Magazine though it was an innovative enough idea to publish it on Forbes.com…with the somewhat embarrassing headline:

Here's the Most Valuable Business Lesson This Marketing Legend Shared With Troops at the Pentagon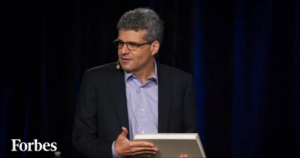 I was embarrassed being called a "Marketing Legend"…but honored to have gotten more "press" on this idea about creating "a mastermind at home for fun and profit." ☺
Masterminding is such a critical aspect to taking your business, vision, or mission to the next level.
It's feedback loops on steroids.
And the idea of a "crawl before you walk mastermind" (i.e. "Book Group with additional discussions") is a great place to begin…and it's a lot easier to begin (and maintain) than you think.
I believe that this idea is as useful for you as it is for the soldiers I spoke to at Fort Myer…simple yet powerful… and I would love your feedback on the short piece on Forbes.com.
Please read it…it's not long at all…click here to access it.

And one last thing…
I can't end this without sending a huge shout out of appreciation to all who serve and sacrifice.
One of my many missions is to support our soldiers and veterans in their pursuit of entrepreneurship—especially in "The Marketing Arts"—(if that is their area of interest).
And please…thank a soldier for their service whenever you see one or meet one.
Or better yet, give them a socially distanced hug. ☺

Warmly,

Brian

P.S. "I'm Brian Kurtz and I am a mastermind junkie."
Not that I've entered a 12-step program mind you…I'm proud of this statement. And it's an addiction I wear as a badge of honor (i.e. a "medal of honor" to keep with the theme of this blog post).
I'm also proud of it (and a little poorer too) because of what I spend on masterminds per year (probably in excess of $150,000 including travel…whatever "travel" is in 2020)! ☺
None of that money is an expense in my book…only on my books (QuickBooks that is).
It's always an investment in my education.
At last count I am a member in six mastermind groups—in addition to the two I facilitate—and I wouldn't have it any other way.
I pay a lot for some—nothing for others—and give donations to causes and people (in-kind and monetary) for the rest.
But they all have one thing in common:
The members in each of my masterminds are a brain trust that is made up of brains I can trust; and whether the mastermind is paid or free, I am always accountable to my mates in them and they are always accountable to me.
We are not all just talking heads while participating in a life during wartime (nod to David Byrne).
Remember what I said about marketing being a lifetime of warfare or an endless war?
These mates are also my troops, my allies…and oh yeah, the most valuable feedback loops who always have my back when I venture into battle.
They give me a solid, truthful advice…even tough love…with real love never leaving the room.
Would you like to have a group like that in your life?
Watch my new 4-part training video which covers the "3-legged Stool of Direct Response Marketing"
I know you will get a lot out of it (I promise).
And if you pay particular attention to Video #4, there is an opportunity to organize an army of support for whatever you are doing in your business today.
Click on the play button on my face below…it won't hurt me…I'm fully protected by my "troops." ☺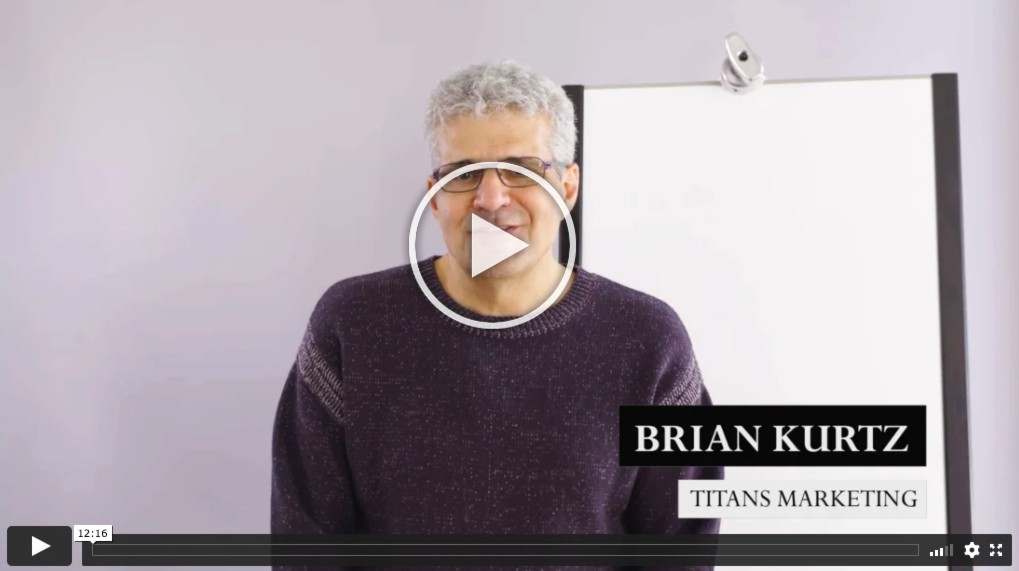 P.P.S. On 12/29 at 7:00 p.m. EST I'm hosting an "AMA/Ask Me Anything Webinar"
I try to do these every 6 months…I love doing them…not just because I love helping folks with their marketing challenges and opportunities, but frankly, I learn so much from the questions you ask.
Four decades of "no peace" in the endless war of marketing has its advantages to even hold one of these…it could be risky. But I'll take my chances. ☺
I've been around long enough (and I've paid close attention to what I was doing for those 40 years) to give you some valuable input on almost anything…about the training series mentioned in the P.S. or anything to do with direct response marketing, past, present or future…offline or online.
I don't come prepared with all of the answers since I don't have them all.
What I have is enough "clicks on my dial" (read this if you don't know what that means) to be dangerous on almost any question.
I don't always spell it out in minute detail but I will always give you, at a minimum, enough input to give you a roadmap to realize the answer on your own.
In addition, this AMA Webinar has prizes for everyone for just attending…and additional prizes for those who submit a question that I field during the 2 hours I am live with you.
So…
Step 1: go here and click either "going" or "interested" for the upcoming fb live on 12/29 at 7pm EST.
Step 2: If you have a question you want me to answer submit it here.
This link to submit your question is also on the event page above.
Hang out with me on December 29th…we'll have a blast.

P.P.P.S Here's a "3 P" P.S. regarding American Dream U.
The aforementioned founder of this life changing organization, Phil Randazzo, wrote a book entitled Mission Next, with compelling and heartwarming stories about the soldiers he has met along the way.
It's an inspiring and a wonderful read…plus all proceeds from the book go to help our troops in The American Dream U. program.
Here is the link to the book on Amazon.
I get no affiliate commission nor would I want one.
I hope you will pick up a copy.

Just one more picture…so I can acknowledge all of the amazing entrepreneurs I shared the view from inside The Pentagon…and on stage at Fort Myer.
I'd tag them all if this was a Facebook post but that wouldn't tell you the most important thing about them.
Simply that they are all heroes. ☺