By now everyone has a good COVID story. 

It seems like it's been with us forever…and it doesn't seem to want to go away. 

I've learned a lot since March of 2020…I'm sure you have too…about business and life (as we knew it, know it and hope to know it in the future). 

The story I want to tell you today is the one about COVID chasing me through Italy in late February 2020…and how I beat it (barely)…and the lessons learned from that chase that will stay with me forever. 

If any of you have any "greatest hits" from your COVID experience, send them to me and maybe I can publish a "marketer's coronavirus mashup" in a future blog post. 

Note: I am not making light of the situation when I talk about the pandemic in this way…I know we have all lost loved ones (family, friends, acquaintances)…I know I have. 

But I believe looking back on our experiences may give us some optimism for the future…and if any of your stories have any levity to them, that would be especially welcome. 🙂 

I know they will have valuable lessons. 

So share away…the good, the bad and the ugly of your COVID experience…in the spirit of moving on to better days ahead.   


My story begins in the fall of 2019…around 6 months after my near-fatal stroke…when I was getting my sea legs back (which meant getting back on stage)…and I agreed to do my first keynote speech at a GKIC event (i.e. to the "Dan Kennedy world")…and I considered that event the beginning of my "comeback tour." 

I met a fascinating guy at the event—he goes by the name of "Big Luca"—and he is a leader in the world of online marketing in Italy. 

I didn't know him but he knew me…and he invited me to dinner. 

How could I refuse a dinner from someone from the culinary capital of the world? 

Not that he was cooking for me mind you…but he came with a built-in, albeit stereotypical, reputation just being from Italy. 

Once we sat down to eat I realized he had an agenda… 

I learned that he was planning a huge live event in February of 2020 in Riccione, Italy (a beautiful city on the Adriatic Sea), and that his keynote speaker, Dan Kennedy, had to back out due to serious health concerns. 

Big Luca was scrambling to find speakers to replace Dan, a daunting task. 

And I was on his "A" list…don't know how I got there…but lucky me.

It so happens that my wife had planned a magnificent trip to Italy for us, scheduled earlier in 2019 (after a lifetime of waiting to get there), which was preempted by my aforementioned stroke…so I felt like the world was sending me a message courtesy of Big Luca:

You still need to get to Italy…you still need to get to Italy…you still need to get to Italy… 

Needless to say, there was little arm twisting on the part of Big Luca when he asked me to present…and I wrote this in my blog post (to you) on February 12, 2020:

I am currently in Italy speaking at a conference where Dan Kennedy was supposed to be appearing…and due to his illness (he's getting better every day!), the organizers thought they would get five speakers to replace him…and I am one of them.

A tall order even for five experienced marketers.

It will take all five of us to share as much as Dan would have shared…and we will give it our best shot.

And I will report back to you how we filled Dan's shoes.   


In my humble opinion, we nailed it…all of the speakers were superb. 

Here's me on stage in Riccione: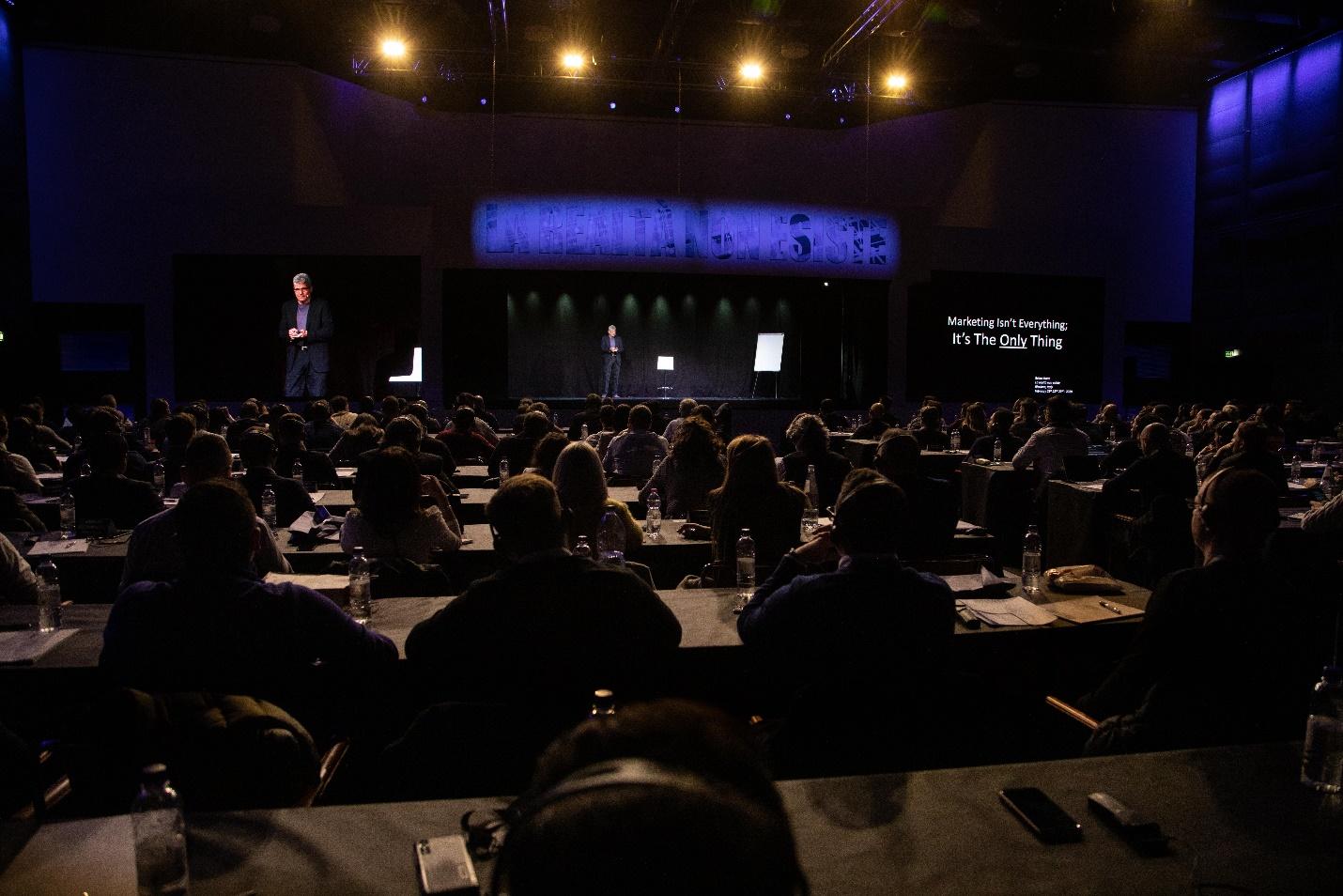 There were so many other things that happened as a result of this trip, and it is a reminder, looking back on it, how much COVID took from us, specifically the personal connection and intimacy that our industry, and so many others, rely on as we "do business." 

It's been almost two years…we seem to be getting back to some sense of normal…but "normal" has forever been redefined. 

The marketing industry rallied during the pandemic, through its creativity, technological prowess and many individual geniuses…by Zooming into the future in the present, with virtual events lapping previous live events in terms of attendance and profitability. 

I wrote about that rapid metamorphosis in, Information…inspiration…or just lunch? 

But so many industries were ravaged by the pandemic (e.g. restaurants, service companies of all kinds etc.)…and they are still suffering. 

Marketers should not be gloating…and the best ones, many of whom recorded record profits during COVID, are not…and instead, continue to serve those less fortunate with "scholarships" in many shapes and sizes. 

Marketing had an unfair advantage since most of the infinite media choices available to us remained readily available during the pandemic; and the reliance and dexterity on digital platforms made it mostly a seamless transition. 

I encourage those of you who have reported your "best year ever" since the pandemic began to continue to give back. 

Or as Dan Sullivan (the top coach for entrepreneurs in the world) says:

"Entrepreneurs don't have to give back since they never took anything. They just give." 

So…just give…please? 🙂   


Back to Italy… I arrived in Milan a week before the event…left Milan for a quick feeding frenzy in the food capital of Italy, Bologna (although the entire country is a feeding frenzy…and you can't find a bad meal anywhere it seems)…and by the time we got to that quiet little seaside town for the event, Milan was in complete lockdown. 

We went ahead with the event, ignoring the deafening silence taking place in Milan, and after the event I moved on to Florence and Rome to complete my whirlwind tour. 

Looking back, being in crowded museums, small family restaurants, and even The Colosseum, we were lucky to not have contracted COVID. 

The virus was all around us, despite not being reported (except in Milan)…which exploded throughout Italy once we returned home in early March. 

And the U.S. was next in line. 

I found it strange that when we landed in New York, and the customs agent asked us where we were flying in from (and we said "Rome"), he said, "You're fine…we are only looking for people coming in from Iran and China." 

Yikes! Not only did anyone not realize the catastrophe that was going on in Italy (and many other countries), in early March, but no one knew what was to come throughout the remainder of 2020. 

Ignorance was bliss in early March…but not for long. But enough about that.   


Having dodged the Italian COVID bullet, and not knowing at the time that it would be my final trip anywhere for at least a year, the rewards from that trip were monumental: 
Big Luca is a friend for life…and as his name implies, when the "Big Man" joins your band it's very worthwhile. Just like it was for Bruce Springsteen when Clarence Clemons joined his.
I've now got hundreds of Italian marketers, copywriters and entrepreneurs in my online family (and many of them are hopefully reading this blog post). I found the Italian marketing community among the most attentive, studious and grateful that I have ever been around.
After speaking in France, The Netherlands, Germany, and Hungary (and now adding Italy to that list), I can safely say that the international community (in my limited view) is embracing direct response marketing with a vengence…and they look to the Americans as their teachers. I also believe we have a responsibility to share all we know with them…which many of us have…which is flipping the script where the Americans now have a lot to learn from our international counterparts. The students are becoming the teachers. Funny how that works.
I became fast friends with one of the other speakers (and teachers) in Riccione, Marco Lutzu–the top copywriter in Italy…and translator of marketing texts and materials into Italian. I even found out that he had been part of my online family (he was a subscriber to my blog and was a charter member of my Titans Xcelerator mastermind). Instant karma. What a thrill.
After spending a day with Marco's team after the event in Florence, and upon returning home, his company contracted with me and my publisher to create an Italian edition of Overdeliver, to go along with the French, German and Japanese editions…and Marco even added his own forward to accompany the one from Jay Abraham.

Here's what it looks like…I can't read it but I'm proud of it: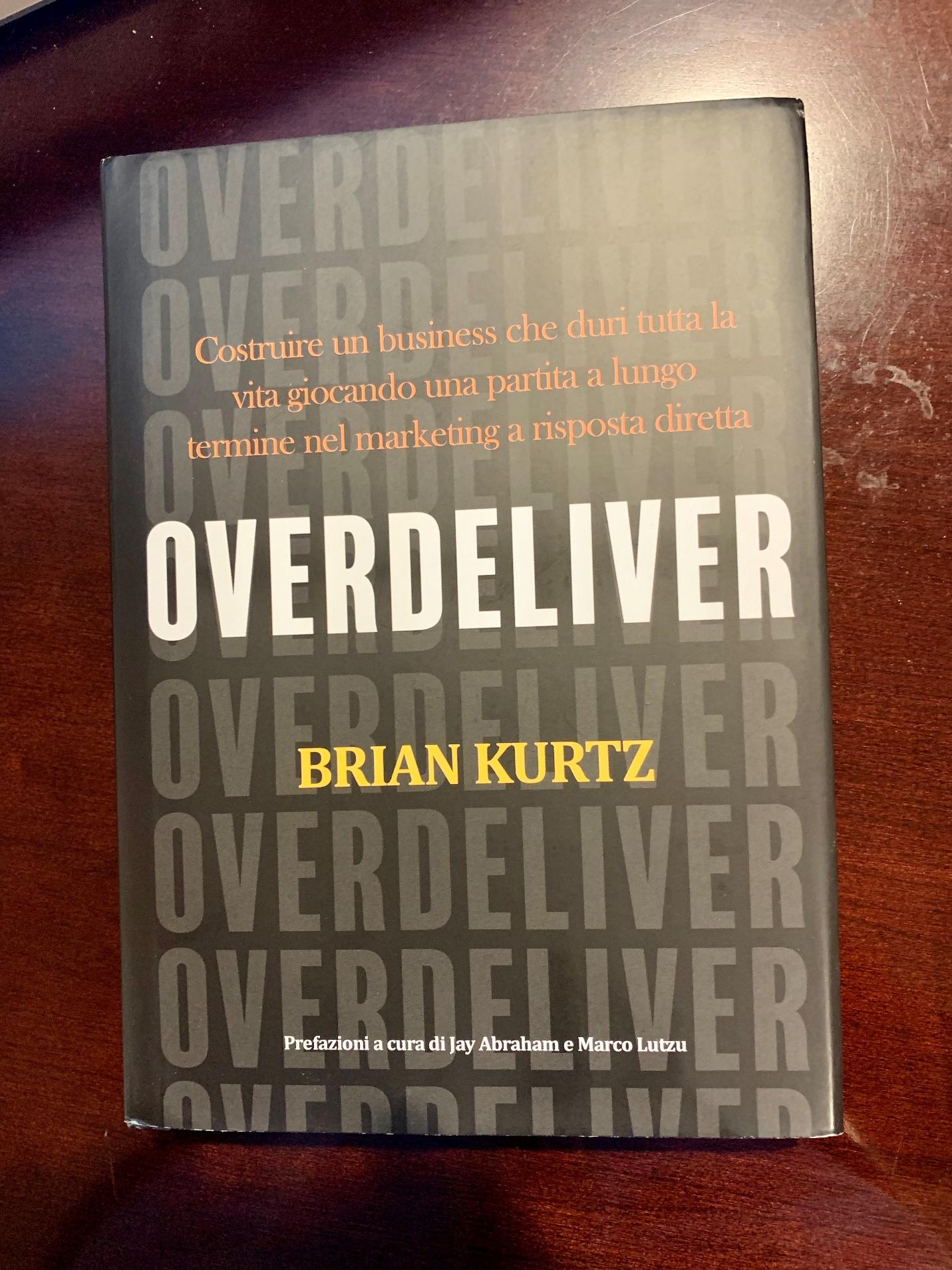 Marco is currently translating Breakthrough Advertising into Italian (and he motivated me to get moving on French and German editions of Gene Schwartz's classic). During Marco's presentation in Riccione, he used Gene's principles with such precision that I knew he was the man for the job.
And…when Marco and his CEO Francesco Zoppeddu ultimately joined Titans Mastermind, I had officially adopted a new Italian family.
I tell you all of this not to brag…just to emphasize the power of "getting out of the basement" (and maybe even to a foreign country!)…and how much we all need to get back in a routine of connecting in person again.
And how much we have missed.
Way beyond "basic FOMO."
My last Titans Mastermind event in September had around a 60% "show up rate"…which seems about the average for live events these days…but I'm hearing that number is on the rise which warms my heart.
We need to appreciate, more than ever, the opportunities for contribution and connection all around us…and now that we can actually leave the house and do it in person and not just on a screen, let's get after it.
After almost two years of being stalked by a deadly virus cramping our style, I'm just about done with COVID.
I'm ready to leave my basement if you are. 🙂


Warmly,


Brian


P.S. I don't like to admit it but I actually predicted the pandemic. 🙂
Unlike my real estate investments or the sports teams I choose to root for (all losers), in December 2019 I had the idea to start a 100% virtual and affordable mastermind in order to reach and teach many more people.
This idea was a winner…and I admit the timing helped.
I want to teach what I've learned over the past 40 years in direct response marketing…AND learn more from more people, while teaching, in a dynamic, give-and-take format. And 100% virtual.
A perfect format for a pandemic when I didn't even know there was one on the horizon.
My "live action" Titans Mastermind
(highlighted by 3 epic live events a year), by design, is limited to a maximum of 30 companies…but this new mastermind idea would give me unlimited reach to as many companies who wanted to join.
Based on today's blog post, you would think that this new mastermind was counter to the theme of why go virtual when I am encouraging everyone to go for more live interaction?
To my surprise, despite this "new mastermind," Titans Xcelerator (now entering its THIRD year…not so new anymore), being 100% virtual, has become an intimate family of over 250 of the most heart-centered direct response marketers and copywriters in the world.
Obviously it is not a format that involves face-to-face live interaction and there is no hugging.
But every live call feels like the ultimate group hug.
When it launched in January of 2020, one of the main components was a live monthly call with me…handling hot seats, hosting world class speakers in direct response marketing, copywriting, media buying, funnel building and entreprenerurship…and having profound discussions on the hottest marketing topics of the day with everyone on screen and in smaller breakout rooms.
But everything seemed to change…even stop completely for many…in March of 2020 with COVID entering our lives.
Titans Xcelerator changed too…by expanding further.
It was launched for a pandemic before there was one.
Titans Xcelerator moved to weekly calls from monthly…lockdown didn't mean shutdown…it was more like "get down" with more calls and connection…and we haven't looked back since.
Rule #1 of overdelivery: Once you overdeliver you need to continue to overdeliver. 🙂
O.K….we pulled back a little…we "only" do a minimum of 2 calls a month and a maximum of 4 calls a month…but we've also added additional content with special interviews and sending bonus books throughout the year which were not even part of the plan when the mastermind was launched.
Lesson: Build up and build on negatives whenever possible…turning the negatives into positves…and turning lemons into lemonade.
The calls only get better and better…and they are only one of the many benefits of membership.
Also included, from the start:
A monthly USB mailed to the member's home or office with recordings of the monthly calls, a swipe of the month (i.e. a classic promotion with a critique) and a treasured presentation from the "Titans Vault" (i.e. speakers who have appeared at Titans Mastermind over the past 7 years…the best of the best).
A private Facebook Group…very active…with Xcelerators helping each other with their business challenges and opportunities.
A host of bonuses upon joining…
…plus a killer welcome package sent in the mail…yes, a real live package.
Why am I telling you all of this?
Because I'm beginning my annual launch for Titans Xcelerator beginning December 6th (and through the end of the month).
And this is the only time during the year where Titans Xcelerator will be open for enrollment.
You will be receiving a series of emails with additional details, case histories and success stories from those who have been Xcelerators over the past two years.
Or you can just click here and ignore the emails. 🙂
Better yet, click here and join…and that's a way to prevent those emails entering your InBox and to begin Xcelerating your career immediately.
Here's an interesting stat that I probably should have led with:
We are averaging close to an 80% renewal rate across the board since day one.
Those numbers speak louder than words.
But read the words here, including commentary from many of those satisfied members.
I hope you will consider joining.
Let's go forth and multiply…together.